Noget af det fantastiske ved tiff er muligheden for at møde nye fremadstormende filmskabere. En af dem var islandske Ása Helga Hjörleifsdóttir, der havde verdenspremiere på hendes debutfilm, The Swan. I den anledning fik vi lov til at stille hende et par spørgsmål om, hvordan filmen blev til.
---
What inspired you to tell this particular story?
The Swan is based on the Icelandic novel of the same name, by Guðbergur Bergsson, a book that I had completely fallen in love with when I read it some years ago. I felt very connected to the main character – the 9 year old girl – and in many ways the experience of reading this book was one of the things that made me want to make films in the first place. One of the things that fascinated me was how beautifully complex the characters are. They have so many sides, so much scope, and I was interested in how that could be captured on screen, both in the screenplay but also visually, with the use of colours, textures, light and shadow.
I got the sense that the film was inspired by real life, how much, if any, is autobiographical?
It's not directly autobiographical, no, but there are certainly things in the story that I am very familiar with. I was raised by my mother in Reykjavík, but in the summers I used to go visit my father up in the north of Iceland, where The Swan was filmed. My grandparents had a big farm and so through my family there I got to know farm life a bit… And because I sometimes only went once a year, I had this mixture of being a little bit homesick, a little bit anxious, mixed with the crazy beauty of the mountains and not being really able to appreciate that beauty because you feel so homesick. And this was something that I certainly wanted to express in the film. How the awe-inspiring beauty of nature can awaken all these mixed feelings in a person.
On a deeper level, I also really do feel that when I was nine – like the main character – I started to see the world in a whole new light. I knew that my childhood was beginning to fade, and because of this I could suddenly feel the strange world of adults in such a tangible way, even if I didn't always understand it. It's such a mysterious – and creative – perspective.
How would you describe your directorial style e.g. how do you translate your vision to the crew and guide them?
With the cinematographer (Martin Neumeyer) and key crew, we just spent a long time talking over and planning each scene, and through conversation, location scouts, looking at inspirational films, paintings, photos, texts etc., I think we understood each other by the time we had to shoot! During editing it was different, it's harder to plan ahead and you just have to work with what you have, and even though I talked extensively with my two editors (Sebastian Thumler and Elísabet Ronaldsdóttir) I feel like the key was just to really try many, many ways in the editing, not be too attached to any one way but rather remain open-minded. With the actors, we also approached each scene with an open mind. With the character of the Farmhand, for example, our key was to never simplify or judge him, but to try to understand him. The same goes for the daughter; our aim was to never turn her into a cliché. Even in her most "annoying" scenes, we tried to pull out her underlying vulnerability. Never turn her, or anyone, into a cliché. Remember always that people are never just one thing – which brings me back to the reason why I fell for the novel.
Was there any scenes, which were difficult to shoot?
I can think of a few, yes! The calf birth, for example, it wasn't fake – we actually filmed a calf being born. We had a list of pregnant cows in the valley that were meant to give birth during the time of our shoot, and so the whole crew had to be on standby and wait until the call came from one of the farms. And even though the actor playing the farmer in the film (Ingvar E. Sigurðsson) has plenty of farm experience, he had never delivered a calf, and so we had no idea how this would all pan out. But miraculously, we made it through and caught it all on camera!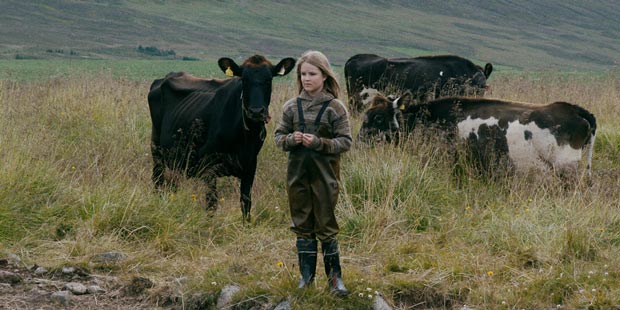 What do you hope the audience will take with them, after they have seen the film?
One of the things I loved the most during TIFF, was to see how people developed their own private relationship with the film. You can't say it's a plot-driven film, rather that the drama and the story unfolds in a slow and sometimes mysterious pace, and most of the time without a lot of dialogue. And maybe that gives people time to think… however that may be, people came up to me afterwards and told me about things that had happened to them in the past, or how certain scenes or characters reminded them of people they had known. In other words, everyone had their own way into the film. It was all so personal and I love that! I love that in cinema you have this dark room and once the lights are turned off it's just you and the movie and people are allowed to bring whatever emotional baggage they want into the room. It's such an intimate experience. I'm fascinated by that; how film as an art form can be in a dialogue with the audience, and a different kind of dialogue with every person.