Det kan godt være, at Toronto International Film Festival først starter i næste uge, men vi har allerede lavet et eksklusivt interview med manuskriptforfatter og instruktør Justin Kelly, der senest har stået bag film som Welcome to the Stranger og King Cobra.
Hans nyeste film, Jeremiah Terminator LeRoy, får verdenspremiere i løbet af årets TIFF, og i den anledning fik vi en lille samtale om hans håb for filmen, og hvad han gerne vil have, at folk lægger mærke til, når de går ind og ser den.
---
– How did you as a writer/director decide to tell this particular story?
I read JT LeRoy's novel, Sarah, upon its release in 2000. I loved the brilliantly written wild and bizarre story chock full of characters on the fringe of society but what I loved even more was the artist himself—an androgynous wunderkind, JT maintained an air of mystery, secrecy, and Warholian intrigue, and his roster of celebrity friends such as Gus Van Sant, Courtney Love, and Winona Ryder only added to his draw.
I lived in San Francisco at the height of his notoriety and loved the constant chatter of JT's existence—was he real or the product of some literary mastermind? Due to the magazine spreads, public appearances, and confirmation from his friends, it truly did seem like the real deal… so when the news broke in 2006 that JT was in fact a fictional character brought to life by two women I was completely blown away, wildly fascinated, and desperate to understand how they pulled off such a heist but more importantly… why?
I met Savannah Knoop, the woman who played JT in public, right as her memoir Girl Boy Girl: How I Became JT LeRoy came out and I immediately latched onto the idea of turning her incredible story into a film, which turned into years of working on the script with Savannah as co-writer until we at last landed our dream cast of Kristen Stewart as Savannah and Laura Dern as Laura Albert (the woman who wrote JT's books).
This personal connection isn't the only reason I wanted to tell this story. I've always been drawn to stories about people whose desire to shift their identity manifests in ways that you wouldn't imagine, and my own work often deals with the extremes that characters are willing to endure in order to be, or be perceived as, someone else, such as my first film I Am Michael wherein James Franco plays a gay activist turned anti-gay Christian pastor, and King Cobra, wherein Christian Slater plays a small town medical assistant turned gay porn king. Jeremiah Terminator LeRoy is a continuation of my desire to tell stories about the power of belief, the cult of personality, the fluidity of self, and the desire to belong.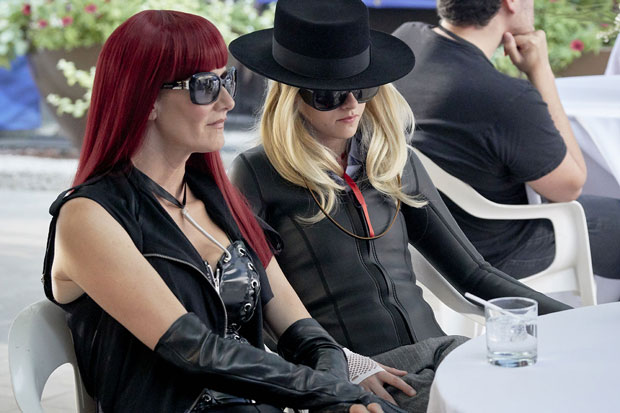 – What was the production like?
We shot most of the film in Canada with additional shooting in Los Angeles, San Francisco, and Cannes, France. It was incredible to watch Kristen Stewart, Laura Dern, Diane Kruger, Jim Sturgess, Kelvin Harrison, Jr., and Courtney Love bring their fascinating characters to life.
– How would you describe your approach to film-making as a writer and as a director?
As a writer I strive to tell unique stories with complex characters who reveal themselves by what they do more so than what they say. As a director I strive to keep a film moving so that we're fully immersed in the story and engaged with the characters at all times. I love the collaborative process of working on a film, so I approach each project with a solid visual plan knowing that everything might change on set after blocking scenes with actors, setting shots with my cinematographer, and/or dressing the set with my production designer. In post, I work closely with my editor to piece everything together, where I'm always open to cutting, rearranging, and/or rewriting scenes so that the film can be the best product possible based on the footage we shot.
– What do you hope people will take away from this film?
Savannah, JT in public, and Laura, JT behind-the-curtain, were quickly written off as "two women who wanted fame and money," when their story is in fact far more complicated and strange. I strive to tell stories about controversial characters without judgement so I hope that whether an audience member sees the JT saga as performance art or as an awful betrayal they'll come away with a better understanding of why a "one time thing" turned into a years-long wild ride of leading double lives. I also hope that people will think about how powerful belief can be, blinding at times, and how that relates to current events.
---
Jeremiah Terminator LeRoy får verdenspremiere på årets TIFF lørdag d. 15. september.